Gardening is a great form of work and is a much loved hobby for many people. Having a look at some of the most famous gardens around the world, doesn't half make our gardens look bad. :)
Hours of work each day put in by many dedicated people, is what it takes to not only get a garden up to this level, but also to maintain it at this high standard.
Here's my list of the top 10 famous gardens.
1. Versailles, France
The Versailles gardens are located in France, and occupy some of what once was the royal demesne of the château of Versailles. The gardens cover 800 hectares of land (1976 acres), and receive over 6 million tourists every year.
In the gardens of Versailles, there are approximately; 200,000 trees, 210,000 flowers planted annually, 620 jets of water, and 50 water fountains.
The garden, when having the fountains and jets switched on, uses roughly 1.6 million gallons of water per hour, using aqueduct d'Arcueil to bring in enough water from surrounding springs.
2. Huntington Botanical Gardens, USA
The Huntington's botanical gardens was set-up in 1903 by Henry Huntington and cover 120 acres, with a theme throughout the gardens containing rare plants from around the world.
40 Gardeners, a curatorial staff of 7, and more than 100 volunteers maintain the botanical collections, provide interpretive programs for visitors, and propagate plants for special sales.
The gardens contain a vast amount of plants, around 14,000 in fact, all of which are showcased for visitors to see.
3. Viceroy's Palace Garden, India
The Viceroy Palace Gardens are situated in New Deli, India. It is one of the most beautiful gardens on this list in my opinion, the garden is covered in vast flowery areas and delicate lanes of grass separated with fountains.
The garden was designed inspired by Mughal example. This garden is much more intricate and richly planted than any real Mughal garden, the result is a fusion of old India and old England.
4. Garden of Cosmic Speculation, Scotland
The Garden of Cosmic Speculation is at Portrack House, near Dumfries in South West Scotland, created by Charles Jencks. The inspiration for the 'Garden of Cosmic Speculation' came from mathematics and science, with landscaping and sculptures themed. For example; black holes and fractures.
The garden sets mathematical formulae and scientific phenomena in a setting which combines natural features, artificial symmetry, and curves. The garden does not contain lots of flowers as other gardens do.
5. Suan Nong Nooch, Thailand
Nong Nooch Tropical Botanical Garden is a 500-acre botanical garden and tourist attraction, situated in the Chonburi Province, Thailand.
The land where the garden lies was bought in 1954, with original intentions of developing it as a fruit plantation. The owners instead, decided to change it to a wildlife conservation project, planting a range of tropical plants and flowers.
The amount of land originally purchased was 600 acres, with the garden being in 500 of those acres, so there is still room to grow.
6. Butchart Gardens, Canada
The Butchart Gardens is a group of floral display gardens in Brentwood Bay, British Columbia, Canada. The garden began in 1904, owned by Jennie and Robert Pim Butchart.
Some statistics about the garden are; the garden covers 22 hectares - all of which is open to the public, there are 50 full-time employed gardeners and 12 additional part-time gardeners that help maintain the garden, there are 26 green houses, it has a staff complement of around 550 in the peak season, and the garden receives roughly 1 million visitors every year.
7. Yuyuan Garden, China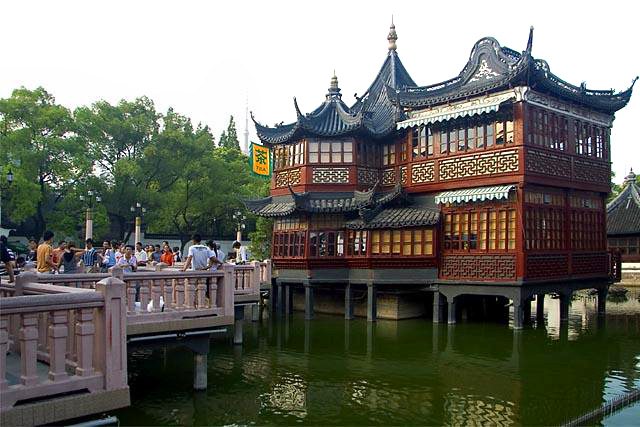 Yuyuan Garden (or Yu Garden) is an extensive Chinese garden located northeast of the Old City of Shanghai, China.
Yuyuan Garden was first conceived in 1559 during the Ming Dynasty by Pan Yunduan as a comfort for his father. The gardens construction was completed in 1977, the largest and most prestigious of its era in Shanghai, but eventually its expense aided to the ruin of the Pans.
In this present day, Yuyuan Garden occupies an area of 2 hectares, and is divided into six areas separated from each other by 'dragon walls', laid out in the Suzhou style.
8. Shalimar Garden, Pakistan
Shalimar Garden is a Persian garden, being built during the 16th century by the Mughal emperor Shah Jahan in Lahore , modern day Pakistan. The garden is laid out in the form of an oblong parallelogram, having a high brick wall surrounding it, which is famous for its intricate fretwork.
During the early 19th century, the gardens lost its prestige, when the Shalimar Gardens were used as stables during the reign of Sikh ruler Ranjit. The gardens were later reopened by the English and nowadays, is a much visited landmark.
9. Minneapolis Sculpture Garden, EAU
Minneapolis Sculpture Garden is one of the largest urban sculpture gardens in the country, with 40 permanent art installations and several other temporary pieces that are moved in and out periodically. The park covers 11 acres.
The centrepiece of the garden is the Spoonbridge and Cherry water sculpture designed by Claes Oldenburg and Coosje van Bruggen, husband and wife.
10. Keukenhof Gardens, Netherlands
Credit: Best Vacation Place
The Keukenhof Gardens is the world's largest flower garden boasting a massive approximation of 7,000,000 (7 million) flower bulbs, being planted annually throughout the park. The park itself is 32 hectares big, so you can imagine how many flowers it takes to fill it.
The park has had over 40 million visitors in the past 60 years, it is the one of the most photographed places in the world, there are around 2,500 trees in 87 variates.
I don't claim ownership or credit for the pictures present, all credit is reserved for the original owners. No copyright intended and I am in no way profiting off of the images present . If you have an issue with a picture that is present, then please contact me.